It is hard to believe that summer is over already. So much has been going on I feel like I missed it. As I look back on it I see that there was so much going on but there was also so many memories made and so many small blessings that normally get taken for granted.
296. Camping trips filled with laughter
297. Seeing new places
298. safe travels to and from
299. a handmade card
300. sore hands from working in the garden
301. playing pinochle
302. blue wildflowers by the roadside
303. growing gourds (all different shapes and sizes!)
304. morning serenades from early bird risers
305. the power of water
306. hot dogs on roller grills
307. picnics with family
308. moonlight peeking behind clouds
309. sunflowers bursting
310. Daddy's who hug
311. rainy days for staying in pj's
312. learning to live like this:
Don't cry because its over....smile because it happened.
313. dragonflies slaying the heat in the yard.
314. roadside fruit stands
315. Sunday drives to no where
316. remember that God is in control:
-in earthquakes
-in hurricanes
-in floods (all of which we encountered within the last month and a half)
317. a husband who reminds me to just breath when I am overwhelmed
318. much needed reminders of
Who I Am
319. reminders that this is only temporary
320. dinner with friends
321. helping out parents who are slowing down
322. fresh cut flowers from local farm that hubby brought home just because
323. Committing verses to memory
324. stars that shine so bright and fill the sky
325. embracing the changing of the season
So thankful that I have been doing my best to write down the small things that I am learning to see as blessings. Had I not been writing them down...I would easily forget where all the time has gone. Please join in the gratitude community with Ann @ A Holy Experience...and learn not to take the little things for granted!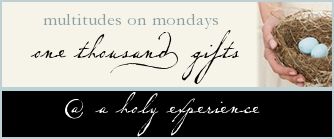 Choose Joy....